________________________________________________________________________
Wednesday, November 26, 2013
NOCTURNA - Special Black Wednesday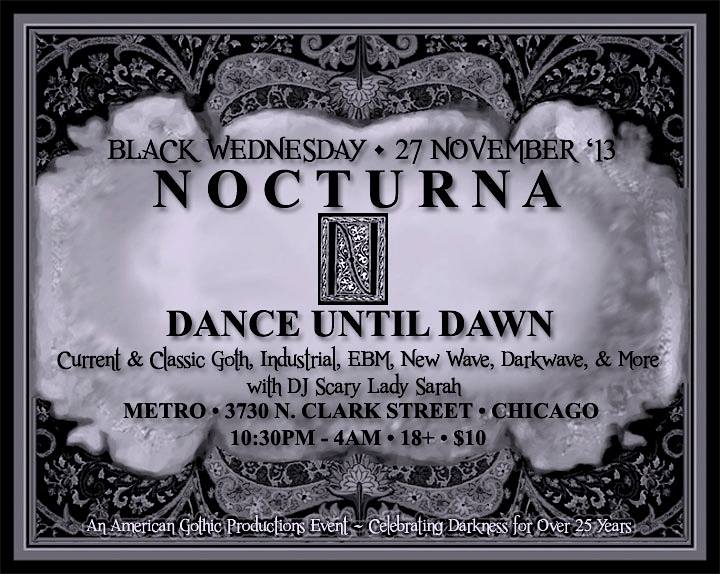 Nocturna, now in its 25th year, is an 18+ dark alternative dance night held once a month in Chicago. DJ Scary Lady Sarah spins a highly request-driven mix of current & classic goth, industrial, post-punk, deathrock, ethereal, shoegaze, new wave, ebm, darkwave, dark indie & more. It's a lot of fun & you should go! ;)
***THANKSGIVING SPECIAL PARTY NIGHT!***
BLACK WEDNESDAY, 27 November, 2013:
NOCTURNA
At Metro, 3730 N. Clark St, Chicago
10:30pm - 4am / 18+ / $10.
Dance until dawn!
- - -
Extras for the night-
• VENDORS, including:
- DreadedJenocide: The Place for Lovely Spooky Things offering dread falls, pony falls, spooky barrettes, clothing & more!
- NOCTURNA t-shirts & Scary Lady Sarah's own "One Inch Worlds" pin badges and CDs, t-shirts, stickers & buttons from THE BELLWETHER SYNDICATE
https://www.facebook.com/thebellwethersyndicate
- - -
• GIVEAWAYS for the night: To be announced!
- - -
• The Nocturna Candy Cauldron will be on the edge of the stage all night if you need a sugar rush (and fully restocked!)
Join the NOCTURNA FB group, too: https://www.facebook.com/groups/15090361526
Nocturna is an American Gothic Productions event...
The Darkest Night Life for 25 Years...
________________________________________________________________________