________________________________________________________________________
Saturday, February 14, 2015
NOCTURNA: Valentine's Ball Special!
Nocturna, now in its 26th year, is an 18+ dark alternative dance night held once every other month (more or less) in Chicago. DJ Scary Lady Sarah spins a highly request-driven mix of current & classic goth, industrial, post-punk, deathrock, ethereal, shoegaze, new wave, ebm, darkwave, dark indie & more. Come dance until dawn!
*♥* For this Nocturna, the first of 2015, we present our annual "NEW LOVES & BROKEN HEARTS VALENTINE BALL" theme and will feature:
• Live photo booth by GLITTER GUTS (dress to impress!)
https://www.facebook.com/GlitterGutsPhotobooth
• The return of the VALENTINE'S MAILBOX GAME! Send your secret crush a message, anonymous or not (or just mess with your friends!) Free & running all night. ♥
• GIVEAWAYS for this night to be announced!
• VENDORS for this night include:
- DreadedJenocide: The Place for Lovely Spooky Things offering dread falls, pony falls, spooky barrettes, clothing & more!
- NOCTURNA t-shirts (special RED versions this night, too!) & Scary Lady Sarah's own "One Inch Worlds" pin badges and CDs, t-shirts, stickers & buttons from THE BELLWETHER SYNDICATE
https://www.facebook.com/thebellwethersyndicate
• Valentine's, candy & treats for all
• Total broken hearts/new loves decor (*wear red & black!*)
At Metro, 3730 N. Clark St, Chicago
11pm - 5am / 18+ / $10.
Thank you so much! Please help spread the word by sharing this event page! Looking forward to seeing you there!!! :) ♥
♥ ♪ ♫ ★ ❤ ☆ ♥ ♪ ♫ ★ ❤ ☆ ♥ ♪ ♫ ★ ❤ ☆ ♥ ♪ ♫ ★ ❤ ☆ ☠
Join the NOCTURNA FB group, too:
https://www.facebook.com/groups/15090361526
Nocturna is an American Gothic Productions event...
Specialists in Dark Nightlife…
________________________________________________________________________
Wednesday, May 20, 2015
Laibach / Cocksure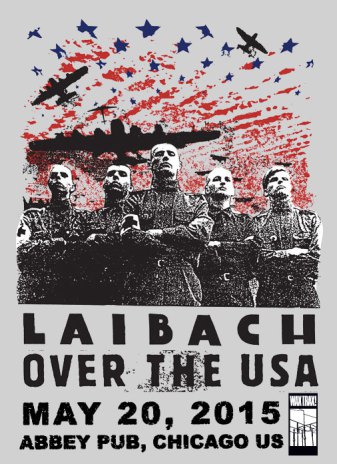 Tickets available

Abbey Pub
3420 West Grace Street
Chicago, IL 60615