________________________________________________________________________
Saturday, December 12, 2015
Nocturna
Nocturna, now in its 27th year, is an 18+ dark alternative dance night held once every 6 weeks (or so) in Chicago. DJ Scary Lady Sarah spins a highly request-driven mix of current & classic goth, industrial, post-punk, deathrock, ethereal, shoegaze, new wave, ebm, darkwave, dark indie, minimal, synthpop & more. Come dance until dawn!
• GIVEAWAYS for this night to be announced!
• The Nocturna candy cauldron will be on the edge of the stage if you desire a sugar rush- help yourself!
• VENDORS for this night include:
- DreadedJenocide: The Place for Lovely Spooky Things offering dread falls, pony falls, spooky barrettes, handbags, clothing, Manic Panic cosmetics & more!
- The iconic NOCTURNA t-shirts (all sizes in stock again!) & Scary Lady Sarah's own "One Inch Worlds" pin badges and CDs, t-shirts, stickers & buttons from THE BELLWETHER SYNDICATE
https://www.facebook.com/thebellwethersyndicate
- - -
At
Metro Chicago
, 3730 N. Clark St, Chicago
11pm - 5am / 18+ / $10.00
Thank you so much! Please help spread the word by sharing this event page! Looking forward to seeing you there!
♥ ♪ ♫ ★ ❤ ☆ ♥ ♪ ♫ ★ ❤ ☆ ♥ ♪ ♫ ★ ❤ ☆ ♥ ♪ ♫ ★ ❤ ☆ ☠
Nocturna is an American Gothic Productions event... for All of Chicago's Dark Underground
________________________________________________________________________
Sunday, December 13, 2015
Krampus Mart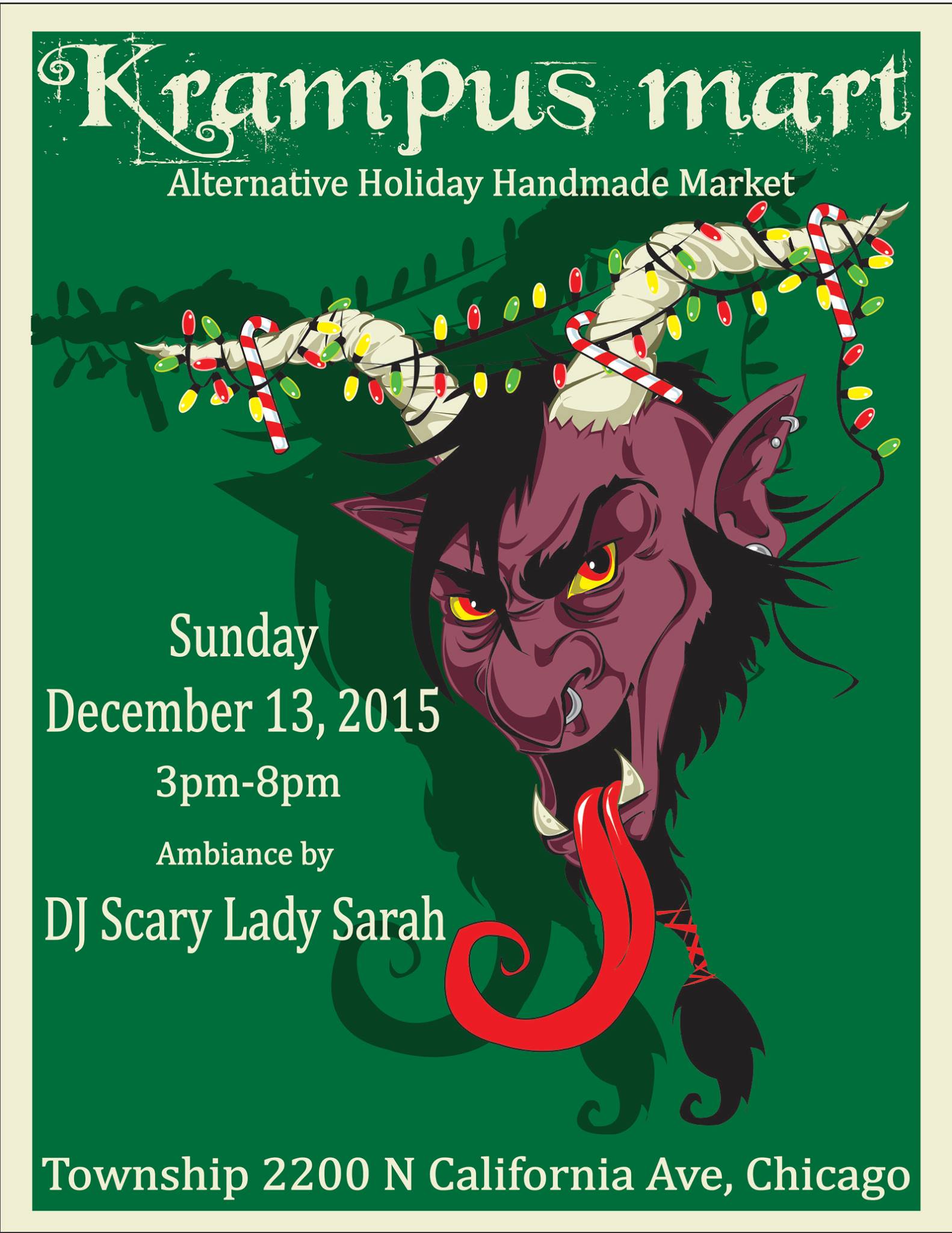 Join us for the First Annual Krampus Mart. An Alternative Handmade Holiday Market with 20+ Crafters and Artisans. Ambiance provided by Scary Lady Sarah. Admission is free and it is all ages.

3pm-8pm

Township (restaurant and bar)
2200 N. California Ave, Chicago

ARTISANS:
Amanda Mayer - Nerdtastic
Arielle Cunnea - Skully Designs
Brianne Adelman - FrankenWerks Studios
Caroline Farrow - Land Under Wave
Cristina Beller - Asunder Art and Jewelry
Dawn Donati - Lady Stainpunk Studios
David Metzger - 8 Little Zombies, Wicked Whimsy Studio & Dreary and Naughty
Darlene Ostrowski - Do Bats Eat Cats
Dayo Steph - 6 Foot Bunch Pottery
~E~ - E is for Artist
Ellen Gipson - Rain's Wonderland
Elizabeth O'Leary - (Undercover) POPULAR
Eric Vulgate - evil-eric designs
Erika Neumayer - Rare Dirndl
Heather Spear - Urbex Archaeology
Haley Lassiter - Haley's Scents & Scrubs
Jane Zia - Our Secret Garden
Jen Aseves - Dreaded Jenocide
Jennifer Anne Buckley - Fuzzy Press Apparel
Jennifer Engelbrecht - Atomic Starlet
Joseph Krystofiak - Ellipsis Design / Darby's Dungeon Chainmail
Rachel Thieme - Pretty Spooky Handmade
Roz Anomaly - Roz's Oddities
Omniobadiah Mee - Entropyware
Scary Lady Sarah - One Inch Worlds
Tanzen Lilly - Dead Poet Accessories
WalkerKDesigns - Punkhemian